Nowadays, logo design is slowly starting to get the recognition it deserves especially because of the perks it brings to a brand. But despite that recognition, some people tend to believe that creating a logo it's very easy when actually it's kind of tricky.
There are some rules and principles you have to follow when creating a good-looking brand identity, and although logo makers like Logo.Bot can make the job a lot easier, there are always tips that can help you when it comes to making your logo stand out! Still, feeling lost? Don't worry because we got you covered with 5 tips and tricks to help your logo go from plain-looking to strong and bold.
1 - Search for Logo Design references in your Industry using Logo.Bot
First things first, did you know that graphic designers start the design process by researching for logos that already exist? That's right. Although jumping to the computer and start designing seems the first logical step to do, there's a lot of research and pre-sketch that will be extremely beneficial to the final look of your logo.
But if you don't feel like taking the time to that hard-working process, you can just go to the "Inspiration" tab on the top of your screen, select the industry you're in, and see the logos we have gathered for you.
Besides making the job a lot quicker when it comes to seeking inspiration, by doing that you can also take a look at the individual tips for your design in each industry. This will help you when it comes to selecting the features that are key to the industry you're in and which ones do not work that well. So for the sake of your logo design, don't skip this first trick!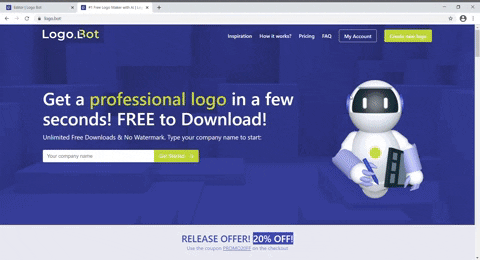 Image 1 - Searching for Inspiration
2 - Enhance your Brand Name Recognition by using different colors
When you're using unusual brand names or even names with words that you want to stand-out, one key tip to make them pop is highlighting two parts of the name with two different colors. Besides calling attention to your logo, this will also help your audience remember the correct spelling of your brand's name.
This personalization feature is available in Logo.Bot and a trick to find it is to use a "two-word" brand name and go through the suggestions. When it finally shows up, select it no matter what's their icon or font and start spicing it up. See the difference?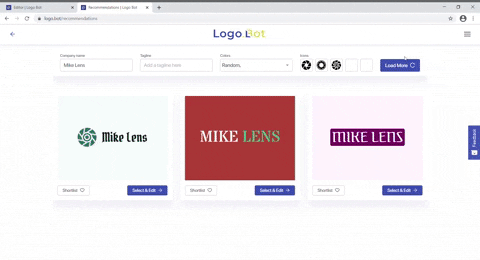 Image 2 - Different Colors to the Brand Name
3 - Containers can make elements Pop
If you're opting for a minimal look for your logo you're doing the right choice because simple features will guarantee your design is timeless and more readable no matter the platform you're audience is seeing it. On the other hand, minimal designs can get boring a lot quicker so you'll need to spice up some elements to make the final look work.
Although changing elements like the colors or the fonts you're using can be the solution, adding a container to your logo is a trick you don't want to miss out on. To do that, just go to the personalization panel on the left side of your screen, select "icon" and then "container". Opt for one that matches your icon shape and you'll end up with a well-balanced design. Voilá! Can see how it pops comparing to the other version?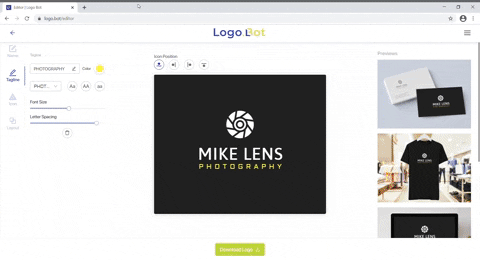 Image 3 - Adding a container
4 - Direct Taglines that look well balanced
When it comes to the tagline of your company, it's best to opt for short and direct ones that easily speak what product or service you have to offer. If you did that and the final look of your logo still looks a little bit overwhelming, try to reduce the size of your tagline and add more spacing to the letters, in a way that the tagline size is paired up with the brand's name (see in the example). Besides giving a more professional look to your logo, this will also make all the elements "bread" and shine on their own.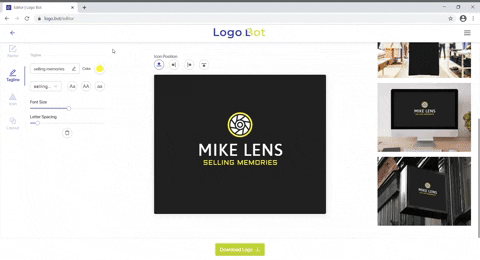 Image 4 - Direct Taglines and Good-Looking logos
5 - Keep checking the previews on your right
To make sure your logo is going to look good no matter if it's printed or on-screen, Logo.Bot automatically creates previews. Every time you make a change to your logo keep checking how the final results are looking on the right side of your screen. This will help you guarantee you are buying a logo that besides looking good is also legible, even from a far distance.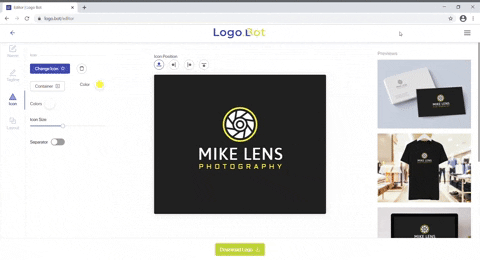 Image 5 - Checking the Previews
6 - Check or Instagram for design tips
Last but not least you should check our Instagram account where we post logo design tips every week. Feeling lost on what kind of name you want to give your brand or even what type of tagline suits your company the best? There you'll have all the answers. Besides that, is also a good place to seek logo inspiration.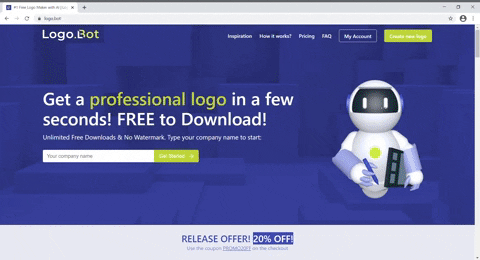 Image 6 - How to find our Instagram page
Now that you have all these tips and tricks to help you out when it comes to design a logo with the help of Logo.Bot, we are sure you'll end up with a professional-looking brand identity for your business. If you want more specific details on how to create a logo for other platforms, here's an article on How to create a logo for Signal. See you soon!